METRO AL MADINA – the local scene's modern day NOVA pub (if you're new to the scene, check http://www.lebmetal.com/?s=nova) taken up 10 notches with much better sound, a comfortable backstage, a spacious stage / crowd area. For a stretch of events, myself and even bands have complained about sound issues there, however I am glad to say that Metro Al Madina has stepped up to the challenge of controlling Metal's loud wall of sound in an indoor setting and is now providing high quality sound for musicians and attendees alike.
Let's start with the only inconvenience of the event: time management. Rock/Metal concerts in Lebanon have an expiry date little after midnight; that's when 50 to 70% of the crowd bails (fact). With 5 bands (including solo act Nareg Vasillian), fans should expect a 30 to 45 mins set from each act; almost 3 hours of loud pounding music. Give 10-15 mins of setup time between bands and you have a 4 hour event that should have started around 8:30 PM. (… let's time travel to when) April went on stage around 12:10 AM with a 1 hour set (they were the headliners, their blood is not so new), so closing band Madjera were faced with going on stage around 1:20-1:30 AM. That's unacceptable for both fans and Madjera, and as I discussed this very topic with them backstage, they admittedly considered not playing if faced with a handful of Metal fans who could not pull another headbang after a 4 hour banging (of heads). Madjera did play that night and reportedly delivered a great show (report credit goes to Roy Naufal > Summer Fusion 2015 interview), but time management was unfair to them.
Moving on, everything besides that was KICKASS. The number of attendees was unexpectedly high given my recent Metal visits to Metro, the sound system was spot on and not ear-piercingly loud, the bands were tight to my joyful surprise, not that they usually aren't, but great sound quality makes musicians play better as they feed from the crowd's energy!
Spent most of my time backstage doing undercover investigative work with the bands who were not used to live interviews (some gave the weird "why are you asking questions?" look), as this whole "press media friendly attention" thing is new for most. After a few words, they realized I am not the Man (Jack Black's School of Rock reference) but in fact another musician who simply likes to support music and happens to write for a local media group, and most importantly, someone they can talk to about Metal (not some reporter who calls their music Hard Rock).
As an example of the necessity and success of this press-bands communication, when guitarist Nareg Vasillian displayed his chops on stage for about 20 mins with raging backing tracks in the background, some did not understand what was happening. "Where's the band?", some wondered. The tracks had several guitar layers and almost every riffing style in the entire Metal music spectrum, but while Nareg's fingers were insanely butchering the fretboard, one could not help but ask which guitar layers was he playing vs the ones in the actual tracks. Sometimes he played a set of riffs while the track played the solos and vice versa, and while no one can question Nareg's skills, one can only comment "please play with a band".
Press/Bands communication: that lone comment was the main topic when I spoke to Nareg backstage, and he stated that he is in fact forming a band and is looking for the right members to tag along – with his main style being something alongside Jeff Loomis' work on Nevermore. Until then, he might do the occasional backing track performance to build up a following and prepare the band's material (I get a golden star for the investigative work, otherwise the only opinion I'd have had after seeing him live is "I just saw some fingers move really fast but I did not understand why".
A few years back, there was a band called "Extorted" which was known for its Iced Earth covers (our interview with them in 2010 here). For young Metal musicians then, they were known for having two beast musicians, Omara Khaddaj on lead guitars and Mazen Nasser on drums. Skip a few years, I'm at New Blood and I run into Omara backstage. Apparently he's in Shadowalls alongwith ex-Extorted vocalist/keyboard Fouad Jamal. I wondered if this was a continuation of his old band but Omara said they played more commercial Rock, a sprinkle of Prog here and there. I was both confused and intrigued since they had a violinist and percussionist set to play on some songs – my first thoughts were "this does not seem commercial to me".
Their first track kicked off with magnificent violin lead, and I mean I wanted the band to blast into a Yann Tiersen kind of thing but their sound was a bit different, it was more uplifting Rock with soaring melodies and an overall positive feeling that filled the entire room.
Their second song had 80s Classic Rock written all over it, which I did not enjoy, but when they finished their entire set, I forgot all about that 80s song, because they pulled a violin-led explosive #Myrath oriental Prog Metal fiesta which should be on CD to be sold in Europe NOW. Backstage, I said to Omar "Myrath?", he smiled, and said that Prog Metal is their preferred sound, hopefully to fully develop on their debut EP release (they already have an EP out, check here), as he now has more free time to work on music and compose something beautiful. All said and done, Shadowalls put the Blood in New Blood.
Shadowalls | Setlist
Break into my world
Another 1000 sunrise
Runaway train
Get out of me
I walk away
Edge of dawn
I missed Qantara's semi debut performance at Quadrangle at the Wacken 2015 competition (which Blaakyum won!), but I kept hearing about this "fresh sounding", "must see", "hope of mankind" Qantara (okay, I made up that last one).
It took 10 seconds for me to like the band, 2 minutes for me to write "Symphonic Tool" on my phone as a note and 10 minutes to really see international potential with their tight Sludge Prog Metal sound. The band was spiritually involved with the music, the focus level was high and those little interludes between songs tied all their setlist into a huge song. Indeed, their guitarist told me that a single story runs through their album (soon) and they mostly followed the album tracks' order.
When asked about the album's due time, "in progress" was their response, and we will definitely see more from Qantara in the years to come.
P.S: I thoroughly enjoyed Qantara's riffs, however I have heard comments from close musicians and event attendees who stressed that the band needs more variety in its sound because at times they sounded redundant with their extended instrumental breakdowns.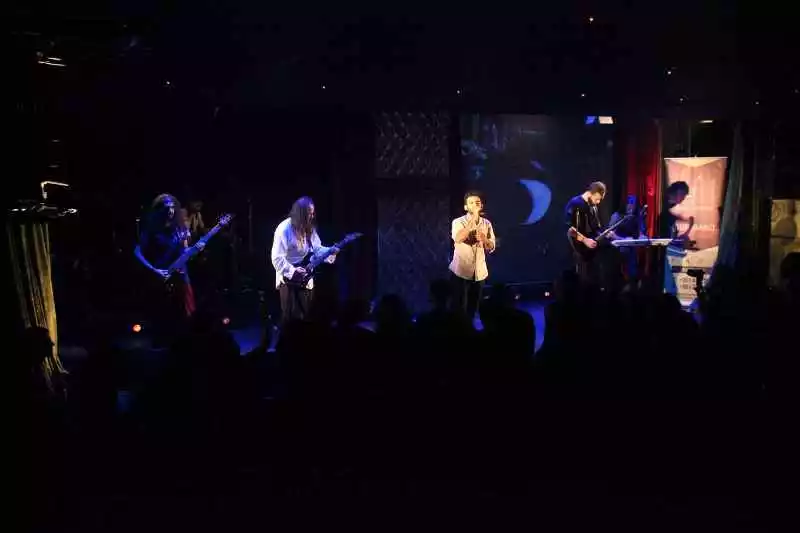 These people said they would not remember any song after the event because it's more "lose yourself in the headbang kind of music". I can only say that the band should consider such comments and view things from the listener's perspective and not simply the performers'. In my opinion, Qantara is set to release a monster album if they find the right vocalist for the job.
Qantara | Setlist
The Fall (The Sin)
Armygeddon (Physical Domination)
Look at the pendulum (The puppeteer)
Let there be light (The revolution)
Perfected 7 (The Warrior)
"Well, we are not really New Blood", April told me backstage right before their show, and she was right because April was headlining this event, and rightfully so. The band has been building its reputation playing lots of events, releasing their debut album and even partaking in local competitions.
I have seen them live several times, but it was the first time they had such a good sound to work with and I finally "listened well" to April and I ENJOYED what I heard, especially the originals! However I kept my previous opinion of their covers, which is "technically well performed but Tool / Opeth are just not the same with a female vocalist" – my only comment is the originals sound great, slowly shed the covers!
Check out the band's "Archives of the Mind Release – Compilation 1″ video:
April | Setlist
These Walls (Dream Theater cover)
Deconstruct
Parabola (Tool cover)
Subtle
Blackest Eyes (Porcupine Tree cover)
Ephemeral
Untitled (title revealed soon)
In case you are looking for an overview of Madjera's performance, I have mentioned them earlier in the article so make sure you read that part. For those who are not familiar with them, they are one of those few active Heavy / Thrash Metal bands around, and if you're brave enough to play Iced Earth's 16 minute Dante's Inferno, you must have skills (and balls)!
As a bonus for not having a paragraph of their own, here's Madjera's original song "Into The Fight":
Madjera | Setlist
Mad Medley (covers medley)
Into The Fight
In The Name Of
Dante's Inferno (Iced Earth cover)
—————————————————-
Sadly we could not take photos at the event due to technical issues with our photographer – photo credits go to Metal Bell whom we thank for both the invite and the photos.