Amadeus is quite a unique artist in the Middle East, he has managed to have several international artists contribute to his music and now he has done it again, this time with Anneke Van Giersbergen, Arjen Anothony Lucassen, Marco Minneman and Jimmy Keegan!
Also contributing to the album are Local Lebanese talents:
Elia Monsef: Vocals
Nareg Nashanikian: Cello
Rafi Nashanikian: Clarinet
The album is called "Death is Just a Feeling" and will be released on the 20th of August at "The Quadrangle" with guest band "The English Way".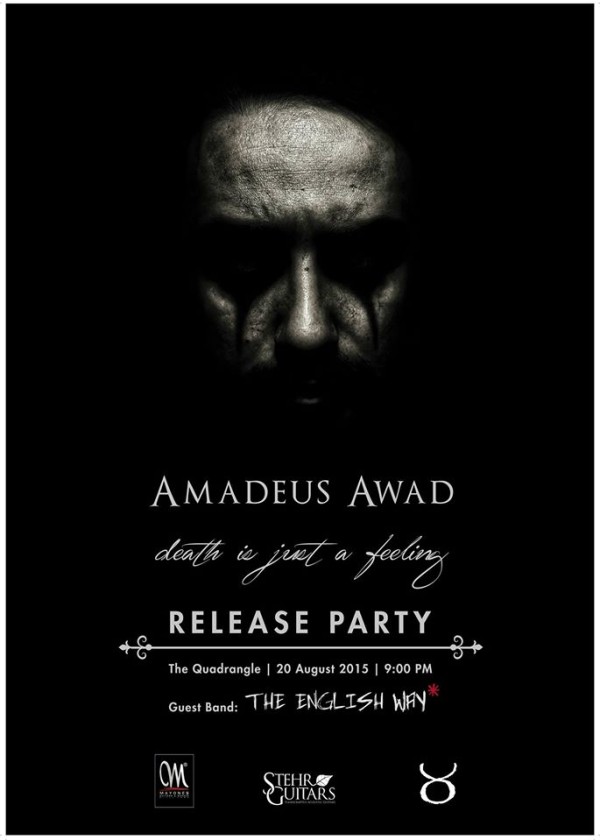 1) We intend not to ask several questions about "Death is Just a Feeling". What would you want to tell us about it concerning "anything" about it.
In brief, it is very personal and it is my best work to date, I am very proud of this work.
2) So, Arjen Anthony Lucassen is featured on the album? That tall guy who plays guitar and several other instruments; the mastermind behind Ayreon, Ambeon, Star One, Guilt Machine and recently "The Gentle Storm". Just to be sure … this guy in the picture? How did it happen and what exactly is his contribution?

Arjen is both singing a song and making a certain statement as well because he represents a certain character in the story line in my head, his part is very interesting.
Him and I are harmonious in so many ways, and it was natural that we will end up doing this.
3) We must also ask, who are the other featured artists? How did you get them to contribute on your album ? and why those artists specifically?
Each of the vocalists on the record represent a character and I chose them because they can present the role in its best form, hence why I chose Anneke, Arjen and Elia as vocalists.
As for the drummers (Marco Minnemann and Jimmy Keegan) I chose them because of the nature of the album, it is progressive rock that needs a certain touch, and both of them delivered wonderfully.
4) We have not seen Amadeus performing in big events, or events that include several artists? We also have Summer Fusion happening this year, and we wonder, why is Amadeus not in the Line-up?
First of all I do not have a live band, it is a huge hassle every time I want to play, it is logistically and financially exhausting, and second of all I do not like festival-like events.
As for Summer Fusion, I was really glad that it is happening again, I was never contacted by the promoters about it, apparently they chose active acts and they know I am not playing live.
5) Why has all releases been EPs so far? Why is Death is just a feeling the first complete LP? How would you compare all your previous releases to the latest upcoming one. Is there an evolution or not necessarily any connection to compare?
Ghost Stories 2011
Time of the Equinox 2012
Schizanimus 2013
Book of Gates 2014 (Amadeus Awad's EON )
Time of The Equinox was a full length albums.
The length of my albums depends on 2 main factors, the story and the production costs, if the story fits in 3 to 4 great songs why write fillers? Just release an EP; As for the cost, everyone knows that I record with huge artists in very expensive studios and then mix and master with the best available people, so this is a factor as well.
I would not compare musically, I would only say that this album is more mature because I have more experience in life.
6) We got used to the fact that whenever Amadeus is about to release new music he also announces the next project. Is the next album on the way or even ready?
Me and Elia co-wrote songs that would fit an album, and I announced before that we are working on a story about a girl whose name is Annabelle (She is me of course), this album will not be released under my name, but rather under Blank Resonance, I have no time table for it yet.
We will leave you with this cover of Coil by Opeth , featuring Kristoffer Gildenlow on Bass, Elia Monsef and Natalie Ziyade on Vocals, and Amadeus Awad on guitar.