After the success of Dream Theater Night 2, expectations were high for local Prog Metal band Turbulence to showcase their musical skills with their third live homage to Prog Metal icons Dream Theater.
Metro Al Madina seems to be the choice for Progressive Rock/Metal bands nowadays, the sound and management are excellent and the standing/seated combo is great for these bands as the crowd can sit back and enjoy the technical prowess without having to stand – note that there are people of all ages and backgrounds who attend Metro, therefore it is not a "Metal" only event, standing in a pit of Metalheads might not be suitable for some people.
It was a full house that night and the stage was setup with large screens showcasing band members throughout the show. The event started with videos from the band's practice sessions along with cinematic clips of various Dream Theater albums, and then the live set started with "The Enemy Inside." Check out the full playlist:
It's worth noting that the track "Another Day" also featured Rita Irani on Vocals and Wassim Ziadeon the Saxophone.
The sound was good and all instruments were clearly heard except for a few technical hiccups at first, which were quickly fixed shortly after. Overall, Metro never disappointed with its sound, regardless of the music genre being played.
The crowd pretty much had Turbulence-dedicated fans (perhaps nicknamed The Turbz) who enjoyed each and every track on the setlist and were surprised with the technically difficult choice of songs which were properly covered!
Vocalist Omar was pumping up the energy levels throughout the event, while all eyes were mainly following Guitarist Alain Ibrahim while he shred his flawless solos, once again proving to be one of the Metal scene's most skilled guitar players.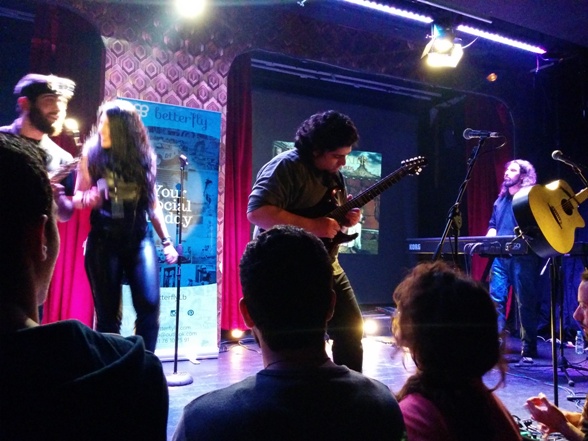 Dream Theater 3 was another successful "cover" event by the band, another build up to their debut album release!