Amadeus Awad is one of the major talented composers / guitar players in the region. His next release "The Book of Gates" will be released under the name EON, a band featuring Amadeus Awad on guitar, Elia Monsef on vocals, Patrick Stephan on drums and Samer Zouein on bass guitar.
The Book of Gates features International Artists like Russel Allen (Symphony X), Amanda Somerville (After Forever / Epica / Kamelot / Edguy), Timo Tolki (ex-Stratovarius / Revolution Renaissance) and Kevin Moore (ex-Dream Theatre / O.S.I. / Chroma Key).
Lebmetal.com would like to thank Amadeus Awad for this interview, and wish EON the best of luck.
 What challenges did you face to get this project done?
"The Book Of Gates" is a huge project. The idea itself is a challenge, a progressive metal opera with Oriental elements and Oriental feel, and I stress "Feel" , because some musicians think that by using certain scales you achieve this, while for me it is all about the pulses in your rhythmic patterns and how you manipulate those into a melody that is solid and moving at the same time like an Oriental dance.
When I started the project, I had it all clear in my mind, I knew exactly how the final painting should be like, I knew what colors to use and how to use them and when.
But once I started the writing process I found out that well, this is not as easy as it may have sounded in my head and things started taking a new turn, and this is exactly when I knew that this project is too huge to be a solo project, I had a meeting with the guys and explained everything to them and we all agreed that each one of us should participate in the writing and production process; this is what kick-started EON and this is what made the project sounds as I am hearing it now in the studio.
The project was a learning process for every one of us, including the guests, and we are so happy as a band with the great results.
Why did you choose major Artists to contribute to the album? And why exactly those?
This is a metal opera, with many different characters, and even the characters in my story have different personalities because the story line is so schizophrenic; So it was so natural that I needed artists who can deliver; artists who can understand what was going on in my schizophrenic mind and translate the feelings in the best way.And as you know, if I am not mistaken, I am the first artist from the middle east to actually collaborate with major names from the actual metal world; So I had the opportunity to continue this legacy and take it one level up, and I did.
We are very honored that we can say with all honesty that we got the crème of the crème of vocalists in the international metal circuit, and this alone can shed some light on how huge the project is.
When you listen to the EP once it is ready for the public, you will understand exactly how the choice of voices was made, it was never random. After all, it is Russell Allen and Amanda Somerville, enough said.
As for the keyboard parts and the choice of Mr. Kevin Moore; personally I think if you want a collision between years of experience and amazing technique from one side, and extreme sensitivity and attention to emotional details from the other, you cannot but work with this superb artist, Kevin managed to create a unique sound for The Book Of Gates, he studied our ideas, dissected our vision and came up with an artistic landscape of sounds that can paralyze any other keyboardist. I am sure Keyboard player in Lebanon will enjoy what we came up with together with Mr. Moore, there is a lot one can learn by watching the masters at work.
Now moving to Timo Tollki, he is one of godfathers of the Power Metal genre, a huge artist who is well respected for his flavor and amazing skills, not to mention that he is one of my childhood heroes. Being a guitarist myself, I knew since day one that having someone like Tolkki playing a solo on the album is a personal challenge and a huge addition to our amazing line up, and he was generous enough to accept, and we are damn proud.

Did the artists have an opinion concerning the music in the Middle East? Did it change? Did they have opinions to share about the Middle East?
I sincerely did not ask them about their views concerning Middle Eastern music, I only discussed the visions of EON's musical direction and how I wanted it to manifest.I discussed politics and things like that with one of them over Skype while chilling between recording sessions, nothing really to share here.
Why do you think there are few Progressive metal bands in the Middle East and many Death Metal bands?
To each his own, not everyone wants to climb mount Everest.
Are there artists you're aiming to cooperate with in the future?
I already started working on a Solo Progressive Rock project, and usual the guests will be a huge surprise, I have chosen names from the top of top of the progressive scene; think Porcupine tree, OSI, Riverside and the likes.
Was there a general plan for the album? What story does it tell?
It is a concept album about a mythological story that happens in ancient Egypt.
I created it to talk about a battle that is happening in my own head; The characters go through many self-changing and life-altering mishaps to achieve a truth that was not there to begin with. It is all schizophrenic. Let's wait until the Opera is out and I will share all details about the story and the meanings behind every event.
Do you compare your work to other bands like "Symphony X", "Dream Theater" or even "Stratovarius"? Are they influencing bands?
I sincerely want to leave this to the critics, the project will get enough reviews to unlock its genre and where it is coming from.As for influences, we are, as a band, influenced by all the bands that you mentioned and we find role models in them indeed.
Did you face problems during recording? When was the album complete?
We did not face any real problems, just few technical ones and this is very normal, I guess that the fact that we are working on this project created huge psychological problems for some other "artists" and you can see this everywhere on their faces.
The album is in its final stages now, mixing and all that voodoo; our mixing engineer Karim Sinno is pouring his magic potions on the songs, just to let you know, you have around 80 tracks per song.
What are your future plans after the album? Is there a video clip in preparation?
As I told you, I am writing my new solo project, and EON is discussing its next steps.
I truly prefer spending money on creating music and not on video clips, some people find them necessary and I understand where this is coming from.
Having sad that, we do have a production company who offered us a video clip production and post production as a sponsorship, but we really have to think of this step very well before doing it; in the end, it is very tricky to shoot a video that can do justice to the stories told in The Book Of Gates
You have chosen Mayones to be your Signature Guitar? What does it have that other guitars do not?
Oh guitars, you know this is my greatest weakness!!! If you saw the advertising campaign on the Mayones page you would see that I said : "I want a guitar with a soul" and to be honest, Mayones guitars do DELIVER this very soul right to my fingers.
Their attention to details is amazing, I sent them long long mails and they replied every single time, taking care of everything and answering every concern.
In my new style I am using a lot of unusual tunings to get the sound I want, and they are building a guitar that is capable of doing this, they think that it is the ultimate progressive metal machine, and hey, it is!!
I am also proud to say that I am endorsed by AMT Electronics, which is responsible for my new sound, and so proud to announce that the M.J.M Guitar Picks have already started producing the Awad Wooden Plectro.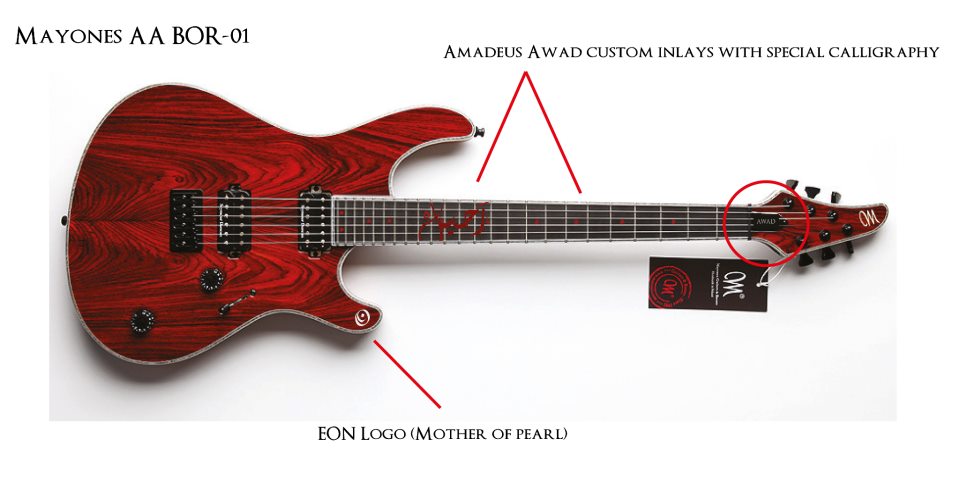 Any last words to rising Progressive bands and to Middle Eastern music fans in general?
I think bands should work more and talk less, they should compose more and hate less, and creating a name for themselves is not achieved by bashing other bands. just work and prove yourself, if you can.
Middle Eastern music fans, keep it up, we are proud of you, we love our fans in Jordan and Dubai, we had great shows there, we will be visiting them soon and we will visit other countries as well. Our fans in Lebanon cannot be thanked enough for their support, we are proud to always have a full house wherever we play, we love you all.