Whether you like Avant-Garde music or not, it's hard to pass on a band that describes its album as a "Soundtrack To The 8-bit Catpocalypse". Today, the 8-bit re-revolution is widely popular in Electronic music, but it's refreshing to see it crossing into the Metal culture as well. If you're thinking I'm talking about Dubstep, you are terribly mistaken. Pryapisme is a French band who's taking Experimental music to the next level, as they know how to mix extreme drum blasts and shred guitar riffs with electronic 8-bit madness to form an interesting blend.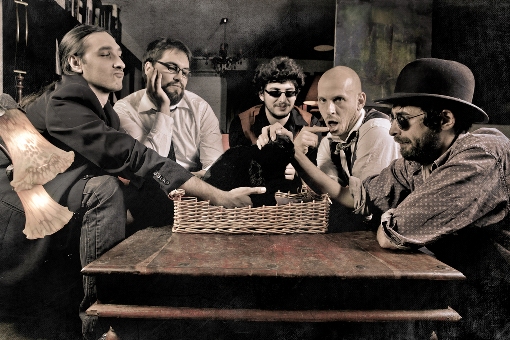 Their upcoming 2nd album "Hyperblast Super Collider" comes out this April 1st 2013 on Apathia Records. It's basically 55 minutes of insane 8-bit experimental / avant-garde / electronic apocalypse. I found that the most accurate description of the band comes from their own words:
"Pryapisme is a band who doesn't know how to write biography since 2000. After studying ninja, a re-conversion in the cons-expertise of technical equipment for a massive group of automotive, Pryapisme offers an avantgardist rereading of the works of Tolstoy, but with real pieces of pizza inside."
Check out the album's trailer:
They are definitely targeting the freaks of the Metal universe, so if you've ever felt interested by weird aggressive music and unexpected song structures, you will definitely like this band. One should note that their sound is unarguably dense, meaning you'll be bombarded by drums, guitars, bass, synths, keyboards, clarinet, "machines", sax and percussion among others, so make sure you're in the right mood to absorb the music's energy.
Given that the music is instrumental, the listener is not meant to memorize the songs as if they follow the verse-chorus-verse song structure, so I feel that it's more of an "art for art's sake" kind-of project. Nevertheless, the musicianship is highly impressive, the arrangements are fresh and the time signatures are extremely odd, almost random-like, proof of solid musicianship and creativity.
Overall Pryapisme impressed me from the get-go, and while I won't probably listen to "Hyperblast Super Collider" on a daily basis, I know in the back of my mind that whenever I need weird-ass energetic music to fit my bizzare moods, Pyrapisme are IT!