On Tuesday August 28th  2012, Lebmetal.com was there to cover an incomparable artistic event: Parachutes –Unlimited Art – [Act 4]
In the beginning, there was purple silence. Nova never looked better: the lighting, the walls, and everything. The place was packed with the sort of people you don't get to meet every day; a rather large variety of rising local Artists. There were musicians, photographers, actors, and short-movie makers.
The opening act (also closing act) of the night was Mazikadiya, a band that tenders Oriental and Lebanese songs with a modern twist. They played proficiently and their music was trouble-free, gentle to the ears of the listeners (I liked the quick Bass solo, it was like a delicious side-dish!).
Band Page: Mazikadiya
Moving on, it was time for beer and FREE popcorn.
Four short films were screened. And, in between them, a set of remarkable photographs (of hot chicks taking poses) by Charles Cremona were shown.
The first film was 'I Told You So' by Charbel Ajami, AUST. It was the one that got criticized the most by Vincent Khoury, the evaluator who also seemed to be giving good advice.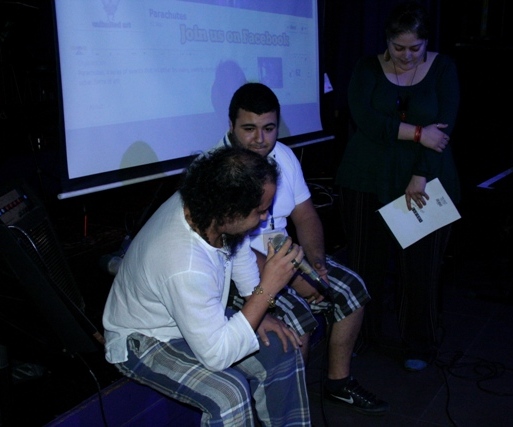 The second film was 'Oh the Baptism, Oh the Puppets' by Chady Rizk, NDU. Although the shots were pretty good, it was more or less to be considered good enough, but there was nothing so phenomenal about it.
The third film was 'All Birds Whistle' by Roy Khalil, NYFA. A silent movie with a clever story line, entertaining, and funny; it was the one who got the longest round of applause. (Chapeau Bas for this one.)
The fourth was 'Trab' (Soil) by Jo-Lynn Moussawba, USEK. Terribly beautiful and horrific! So, it's true then, they do leave the best for last. Nevertheless, when asked about her film, unlike the previous directors, Jo-Lynn didn't have much to say. "Uhm, yeah…".
Finally, it was Rosewell's turn to show what they were made of (or, in this case, what they've made). Publicized for the first time, the launching of their official music video "Like No Other" which was directed by Youssef Nassar (Chapeau Bas to this guy) was a success. (At last, ladies and gentlemen, a high-quality Lebanese Rock Music Video!) A video clip 'like no other'.
Ghaith and Fadi also performed live, teasing the crowd with yet another song of theirs, 'This Day' (Acoustic).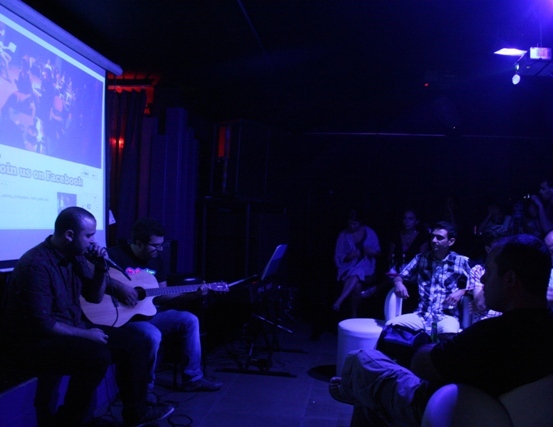 Band Facebook Page: Roswell
To make a long story short, Parachutes is the perfect event for Rising Local Artists. And, last but not least, all of this wouldn't have been if it weren't for Nathalie J. BandAge & Rachelle Maksoud. So, a special thanks to them for supporting this generation's creativity and passion.
See you all next time.
You can find all event pictures on our Facebook page >Here<