For those of you who aren't familiar with Diablo Swing Orchestra, they are a Swedish Avant-Garde Metal band who released 3 highly successful albums to date, with the most recent one being "Pandora's Piñata" (release date in May 2012) (you might as well check our review of their their first album "The Butcher's Ballroom").
DSO gathered a large following in the Metal community (and elsewhere) because they fuse Metal with Jazz, Swing, Folk, Opera (the list goes on and on) with such creativity and musicianship that their songs never sound 'crowded' or 'too experimental' for the average listener.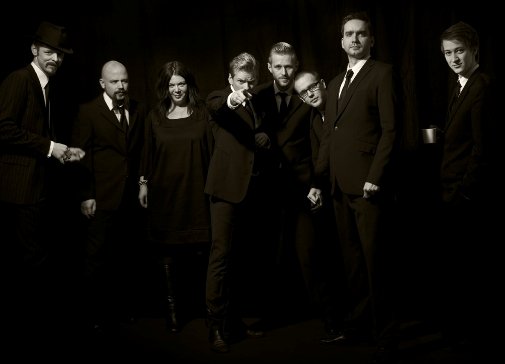 With this album, DSO stay true to their 'progressive' side by evolving their sound and adding new twists and turns to their catchy material.
The album's single / opening track "Voodoo Mon Amour" is reminiscent of 'Ballrog Boogie', the first track from 'The Butcher's Ballroom', in the sense that their albums always start with a 'big bang', the kind of songs that draw the listeners to the rest of the album, because they know how to balance creative/catchy songwriting with genre-fusion.
Here's "Voodoo Mon Amour" from "Pandora's Piñata":
When I listened to the album in its entirety, what struck me the most is "Justice For Saint Mary", the 8:30 min song that starts off as a drumless yet emotionally-charged ballad with acoustic guitar and orchestral background. However, the song builds up quite nicely to reach its peak at the 5:46 with a big tension breaker involving aggressive guitars / drums / strings which suddenly slide into electronic madness, a style which DSO had never explored yet. The energetic rhythm progression is repeatedly sliced and torn apart by electronic interference, to outstanding results! Here, check it out:
For the rest of the album, here are the songs which I recommend to the different types of listeners:
– Fans of Jazz: check out "Honey Trap Aftermath", it barely has anything Metal-related, it's groovy and got plenty of trumpet/trombone ('Honey Trap Aftermath' on Youtube).
– Fans of Metal: check out "Exit Strategy of a Wrecking Ball", it got some great riffing, odd time signatures, great tasteful drumming throughout the song and it doesn't feature Annlouice Loegdlund's operatic vocals (in case you're not fond of the old-Nightwish Symphonic stuff) ('Exit Strategy of a Wrecking Ball' on Youtube).
– Fans of Opera: check out "Aurora", a song that extend's DSO's theatrical reach and would definitely serve well as a film soundtrack – Annlouice Loegdlund's soprano vocals are highlighted on this one ('Aurora' on Youtube).
– Fans of Avant-Garde: check out "Guerilla Laments", one of my personal favorites on the album. Similar to 'Voodoo Mon Amour', this song features the majority of the band's influences, all brilliantly put together to form an avant-garde mix like no other.
Hope you like the album, it's definitely among my favorite 2012 releases so far!
Official Myspace