"Power Theory was envisioned and created in 2007 by Bob "BB" Ballinger with the intention to form a True Metal band with a mix of the NWOBHM, 80's German Power Metal, and a little bay area Thrash thrown in to shake it up." (check full biography here)
Here's an interview with Power Theroy's
Bob "BB" Ballinger

(Founding Member – Guitarist – Band Spokesman).
So how did the band form? What common musical influences do you have in common?
I had started Power Theory in 2007 after the prior band I was in self-destructed from members all having different ideas of how the direction of the band should move. I wanted to play heavier melodic metal, and Power Theory was created. The bass player from the prior band came along and claimed to have my same vision, but it soon proved to be false. The original line-up was all strong musicians and we were good, but soon the same thing happened and the songwriting styles and opinions caused a lot of high school drama. Also the behind the scenes lobbying by the other musicians to try and change my original vision proved to be too immature and a waste of time, so I pulled the plug and decided to re-group and find new members. Although we achieved a small leave of local success and some radio airplay, we were pigeonholed as "sounds like Iron Maiden" and there is only 1 Iron Maiden.
https://www.youtube.com/watch?v=vGR8x0-lzpY
I found a decent session drummer and again the bass player joined me, and we found and auditioned Dave Santini in October 2008. The minute he started singing, I heard David Wayne, John Oliva, Blackie Lawless, and a little Buschy from Paragon in his voice, and I knew he was the singer for us. I also knew we could break away from the "sounds like Maiden" tag. The bass player disagreed and was not around too much longer.

As far as influences go, Dave was also raised on the classics too like Priest, Maiden, Sabbath/Dio/Rainbow, etc. and was into Thrash more than me. But I have turned him onto Primal Fear, Iced Earth, Grave Digger, and Paragon.
You recently announced the release date of your upcoming album "An Axe to Grind". Tell us a bit about the album's recording process.
(Deep Breath) Well it's been an interesting process this time around to say the least. I scratched most of the tracks last spring and we started to record the rhythm/bass/drum tracks to a few of the songs and even tracked one with vocals. Soon it became obvious that the "Live" drummer du-jour was not going to work out in the recording and songwriting of the album due to his superior attitude, ha-ha. He also played a more "Math" or "Nu-Metal" style and did too many things "out of the pocket" of the songs, and it was like trying to fit a square peg in a round hole so to speak, and we all know "there's a fine line between clever and stupid", LOL.
Also, our bass player Jason Tete came to us and honorably expressed his desire to step away from the band and spend more time with his young son, so we put plan B into affect. Jay Pekala was worked into the line-up in practice as Jason Tete graciously fulfilled our obligations. Jay Pekala and I had played and wrote songs some years back and really had a connection musically, and the songwriting really started to step up. We also found a kick –ass metal drummer in Lorin Savadove who was a fan of what we listened too, and understands the dynamics of our style of metal needs the tightness of "In the Pocket" drumming.
So we started the recording process over again in the fall. We scrapped everything and started from scratch again with a complete band taking ownership of the songwriting and songs.

As I write this, we have just received the "pre" final mix before mastering for our listening to adjust any issues for a final mix, and we will send by April 1st to Pure Steel Records for Rocco Stellmacher to Master it.
In your biography, you mention something about "the right" European "metal sound". As an American band, are you affected by this European / American sound difference? (Especially because power metal is best appreciated in Europe)
Not so much affected by a sound difference, but more of a personal preference of what style Metal "sound" makes my pulse pound and the fire inside my heart keep burning. Also wanting to keep our "sound" traditionally consistent with where the Metal Community is the strongest, Europe. So we are more like a True/Power Metal sound without Keys.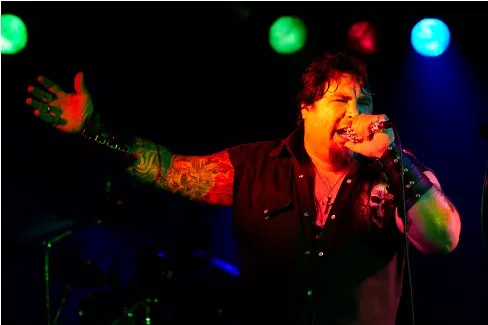 You recently shared the stage with international acts Helstar, Holy Grail, Cauldron, and Sinister Realm among others. Did you feel that new doors have opened up for the on-band to international level?
Absolutely, all of the shows with the bands you have mentioned have opened up new doors for us by bringing us live to their fans. We are still a "young" band in retrospect to those others and we have to network daily, and yes those guys all have international fans that see our name on their show flyers and tour schedules and check us out. We have also partnered with Rocket Queen Promotions (http://rocketqueen-susi.de/) as our European PR Pro and our numbers are growing everyday.
What are your plans for the future? Maybe some gigs in Europe, more studio albums, a campaign against media perhaps?
We have local shows monthly through June 7. Some highlights are the Sleepy Hollow "Skull 13" CD Release show along with Exxplorer on Saturday March 24, and we are playing Warriors of Metal V Open Air (http://www.warriorsofmetalfest.com/ ) in the USA on June 29, 2012 and will release "An Axe to Grind" there, the line-up is incredible, check it out.
Yes our main future plan and goal is definitely European Festivals and Tour Dates, and we have just recently signed with Red Lion Music (http://www.redlionmusic.de/) to achieve that goal. We are in the process of scheduling a video shoot for a new song, and we already have songs written for the next album, as well as some good riffs and themes that will become songs. So another goal is to release another full length album in 2013 too. Strike while the Iron is Hot.
Last but not least, any final words to those awaiting the release of "An Axe to Grind"?
I can't wait for us to share this release with the international Metal Community because Power Theory has definitely taken the steps to grow stronger in all areas as a band for this album with; better musicianship, song writing, production, and artwork. The songs are deeper content, heavier, faster, harder, louder, eviler, ha-ha…