It does not take long before things settle again in our beloved scene. Alot of things keep changing but unfortunately other things are always the same.
Few month ago, all Metal events were happening in one single pub "Nova", now the events moved to Quadrangle, a place which hosts Rock, Blues and Jazz bands regularly. Quadrangle seems to have added Metal to the weekly list of events.
Pubs seem to present a playground for bands to practice live performance and sense crowd interaction; some bands are planning to develop their music and make new fans of their creative novel musical material, while others are having fun making the crowd jump and cheer on big "Metal Hits" covers (of course the word cover lost its meaning when it became copy).
Cover bands will always keep coming… there is always a new generation going into Metal each 3 or 4 years, more people will be 14 or 15 and they will have the "Linkin Park" we had to introduce us into Metal…
After this long intro (probably called tonzir), the main subject has to be short. There is not much that can be said about Back to Back (17.3.2012) other than it was an enjoyable and well organized event by
Freak Show

. There wasn't much noticeable problems on stage and the crowd was active and cheering with all the bands.
Frozen Flames performed the Iron Maiden stuff they always deliver, they seem to have gathered more experience and more courrage on stage! Every metalhead enjoys Iron Maiden for the gallop and the hype. If you are a Metalhead and barely know some Iron Maiden tracks like "Fear of the Dark" and  "The Trooper", shame on you.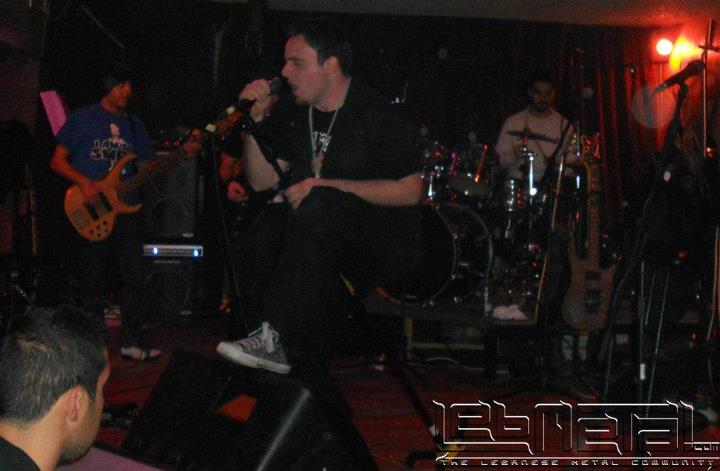 Monarchy

, one of the few truly labeled original "Progressive Metal" band delighted the crowd with their originals, which are now familiar in the ears of most Metalheads in the scene. Monarchy performed some Dream Theater covers (Forsaken) and a Pink Floyd (Comfortably Numb). They have an album released entitled "The Rise and Fall of Atlantis", if you didn't get that album again shame on you! You can grab the album from Lebmetal.com stand which will be available at Hail event this March 31st.
Decembre Dies Alone

 are one of the most active bands when it comes to live performance, almost not missing a single show by Freakshow, but always delivering a good show. These guys are recording their first full album after their EP "When Memories Faught to Dissolve" which was distributed for free at the Lebmetal.com stand. We will be waiting for more creative material from their behalf and an amazing album!
Primal

always keep surprising us; this band is becoming one of the best in Lebanon when it comes to covering Metal acts especially like Pantera. They easily have set the stage and everyone around it on fire. The quality of the performance is even far better that the last time I watched this band live in "Rock in The Woods". Again Kevo was in charge of the vocals and crazy like hell (check the pic below), the ambiance did not suit "Meditation and Levitation" but Kevo pulled it off. We just hope that more original material is added to the setlist, and I am sure they can do a great record.
Havoc was the last band on stage. I have watched the band before, they are evolving, they did perform well and many in the crowd were headbanging along. It did not move us much, maybe because we lost interest in the genre, maybe because it was late and we were tired. There is only two types of performances that drag our attention, a very good cover or a mediocre original with potential.
Check out all the pictures from this event on our Facebook page HERE.