Date / Time / Location
September 29th 2015 / 6:30 PM / AUB – Hamra, Lebanon
Event Description
NCC's annual fundraising concert is back and it's more determined than ever in its mission to help plant and replant trees. The name of the event is inspired from the 1969 Woodstock festival which is unfailingly associated with the peaceful hippie movement and flower power. In fact, the name of the town of Woodstock, after which the event was named, is over a millennium old and means "the place in the woods". This said, one of the images that NCC keeps close to heart is the return to that sort of outdoor freedom, and to make that possible, it strives to bring back "the woods" to "the place".
This year's edition of the concert will feature professional graffiti and street artists who will create illustrations while the live performances are going on.
Join us at the AUB Hostler Student Center Open-Air Amphitheater on the 29th of September starting 6:30 PM for a magical night to continue a legacy of fighting for nature.
Tickets: $10
Points of sale:
-AUB – West Hall • Visitors Bureau • Nature Conservation Center
-At the door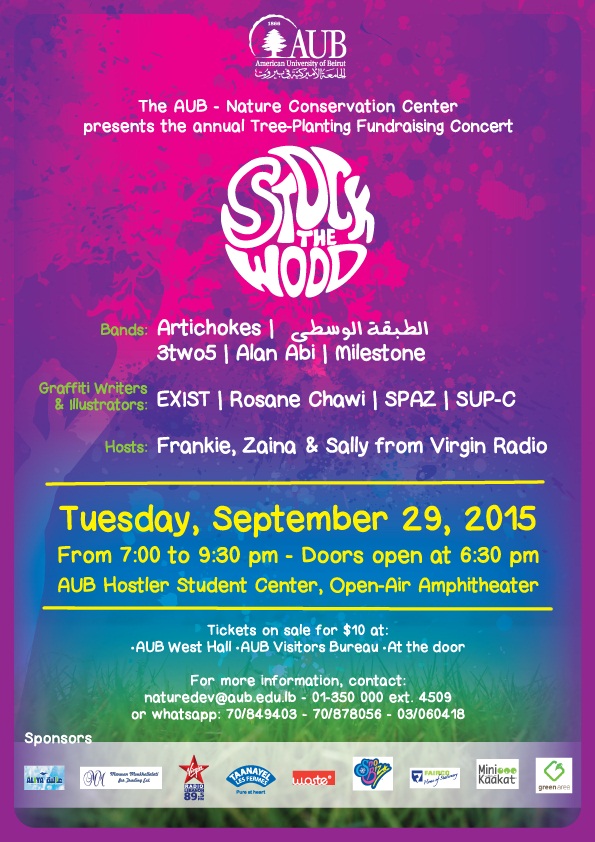 Featured bands
Alan Abi
Artichokes
Milestone
3two5
الطبقة الوسطى
Graffiti Writers and illustrators
EXIST
Rosane Chawi
SPAZ
SUP-C
Hosts:
Frankie, Sally and Zaina from Virgin Radio Lebanon
Sponsors:
Virgin Radio Lebanon, Fairco, Aliya Drinking Water, Waste, and Marwan Moukhallalati for Trading est.
For more information
+961 1 350 000 ext. 4509
naturedev@aub.edu.lb
Whatsapp: 70/849403 – 70/878056 – 03/060418
P.S. Tickets purchased prior to the change of date are still valid