From the organizers of The Christmas Mission, coming your way this Easter, A PURE ROCK night for a good cause!
We SHALL put some smiles on their faces this season too and HELP stop hunger in Lebanon!
We will raise funds to buy food supplies to support the lovely people at FoodBlessed and help them with their mission: facebook.com/FoodBlessed
Saturday April 26th 2014 / 8:00 PM / The Quadrangle Live
20,000 L.L including 1 Drink.
Special offer: ANY pizza for 10,000 L.L.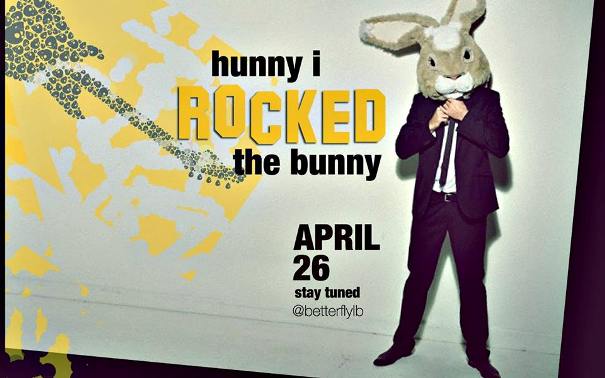 Hunny, I Rocked The Bunny – Presented By:
The Doctor, Wissam Kamal
Stand up Comedian
twitter.com/WissamKamal 
Featuring Bands (in performance order)
-Rabii Hajjar & Mo Jouzou (Acoustic) 8:00PM to 8:35PM
-Guest Band* (Special appearance) 9:20PM to 9:35PM
-The Butterfly Feat. Tanya Rizkala Agostine from Epic 10:20PM to 10:55 PM
facebook.com/thebutterflyband
facebook.com/epicmusicband
—————————————————————–
*Special Coverage
internationalliving.com
by International reporter Joseph Carefoot
———————————————————————
PLEASE RESERVE!
Call Better'fly
Office 01 49 31 81
Hotline 03 41 25 24
Viber & Text 76 13 76 21
better-fly.lb@outlook.com
This event is organized by better'fly.