The band
6008 Days

steps into the international Rock scene introducing the new single and official video clip of the first ever released work of the band: "

The Bad Day

".
Band members, renown musicians in the Rock & Metal scene – members of
Secret Sphere

(ex), 

Lucky Bastardz

,

Lines n' Noses

, Silence Fear (ex),

Ovrhol

– are proud to see the tough and detailed job for the video production finally come to life.
The video has been written, directed and producer by the celebrated visionary
Antonio Masiello 

whose interest "

is oriented towards opportunities that, involving several aspects of education and personal experience, use new technologies as a way of expression and a vehicle of ideas in an image – communication world

."
The artistic interaction between the band and the director represents the perfect match between the two styles; Lyrics, Music and Images merge into an author-marked concept video clip born from the vision of the band to apply a countdown of 6008 days to our existence, through which our sleepy consciousness can be awaken.
6008 days left to free one self, to realize and atone everyone's faults towards a world that is destined to self-destruction. 6008 days to think of a new approach to reality, too often marked by the idealism of "need" and too much into the loop "produce – use – die" introduced by the
consumerism and multinational corporations.
6008 Days play Rock as defined by grit and melody together, fine and essential arrangements, a musical proposal of immediate impact that still holds a depth and variety of musical ideas gradually unveiled by the listener.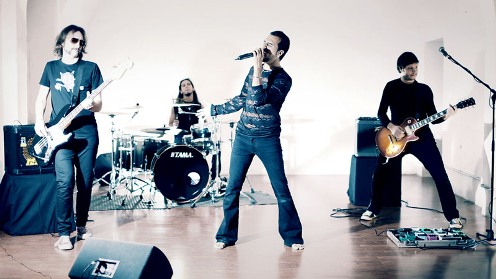 "
We come from the Metal and Hard Rock background, out of which we keep the huge energy and freedom of expression that we use to communicate with a large and wide variety of listeners; basically anyone who really loves ROCK in its widest terms.

"