Saturday September 1st 2012 / 8:00 PM to 2:00 AM / Las Perlas – Almoun (Dawahi Shekka)
This festival will be organized every year in the north, it will include alot of bands from different places of the Lebanese coast.
This event is organized by the band THROUGH A DEAD SOCIETY.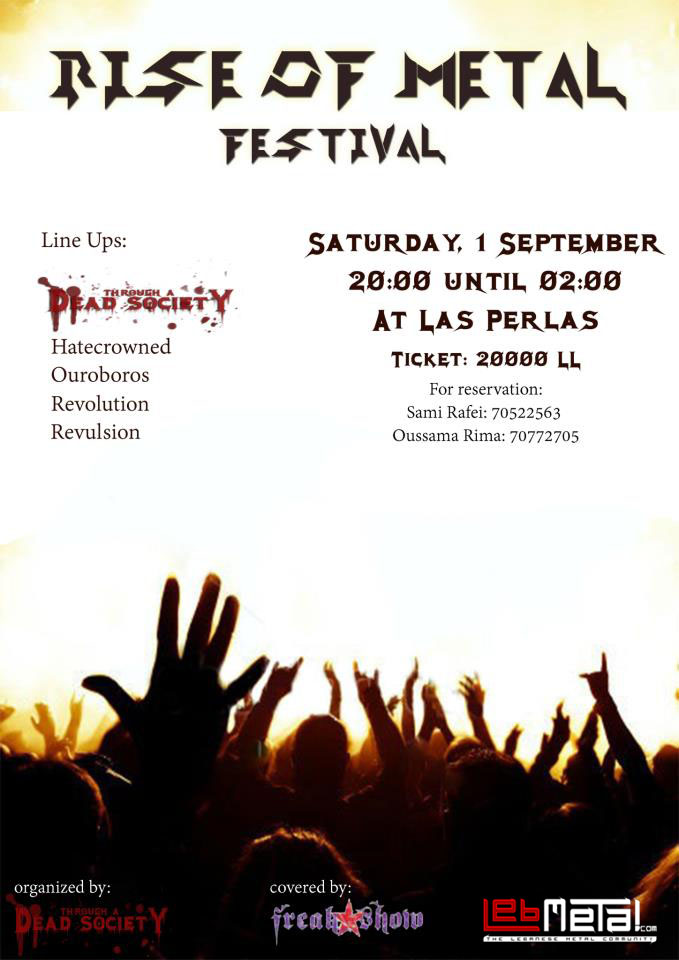 There will be bus going from Beirut to Shekka: the bus will be at Dawra at 6 pm (to go & back).
The bus will stop in Jbeil at the parking  in front of the beach at 7 pm (to go & back).
Finally the bus will stop at "Se7t el Nour" at 7:30 pm (to go & back).
The concert will take place in an open air tennis field! So it's gonna be comfortable to mosh-pit & headbang like hell \m/
– Revolution : Progressive Metal
– Through A Dead Society  Metalcore, also covering Lamb Of God.
– Hatecrowned: Black/Death metal
– Ouroboros: thrash/brutal/death metal
– Revulsion: Thrash Metal
– Afestic: Thrash Metal members: Walid Zakzouk vocalist of Demons, Bougi Masri drummer of Demons, Khaled Arja bassist of Demons, Nabil el Ali guitarist of Demons, Fawaz tabbaa guitarist in Through a Dead Society and Hatecrowned. They cover Lamb of God, Pantera and Sepultura.
20000 L.L + 1 beer or soft drinks.
Tickets on door and with Sami rafei and Oussama Rima.
Tickets available in solitaire-instrument garage and in Distortion-city complex and D'lite with Abdalla Charbaji.
Be there & Be MANY \m/
Sami Rafei:70522563
Oussama Rima : 70772705
————————————————————————————-
————————————————————————————-
This event is covered by LebMetal.com
LebMetal.com will be setting a merchandise stand to support local bands:
The Hourglass shirts + albums and EP
Alan Azar – "The Cosmologist"
Moe Kabbara – "Understated Imperfections" EP
Monarchy – "The Rise And Fall At Lantis"
Blaakyum – "Lord of the Night"
Amadeus Awad – "Time Of The Equinox"