Tuesday August 28th 2012 / 8:30 PM / Nova Club, Sin el Fil.
Parachutes, a series of events that will gather film making, painting, photography, music, poetry and other forms of art!
At these events you will meet the artists, get up close and personal with them, ask them questions, get introduced to their work and mingle with art lovers in a friendly atmosphere!
These events will be taking place every week at Nova Club, Sin el fil (with a large variety of Lebanese artists and art work at each event).
For more info and photos please visit:
http://www.facebook.com/parachutes.lebanon
Program for Tuesday, August 28th, 2012
Mazikadiya
Oriental and Lebanese songs with a modern twist
http://www.facebook.com/MazikadiyaMzykadyh
Film 1: I told you so by Charbel Ajami, AUST
Film 2: All Birds Wistle by Roy Khalil, NYFA
Film 3: Oh the Baptism, oh the puppets by Chady Rizk, NDU
Film 4: Trab by Jolynn Moussawba, USEK
Charles Cremona
http://www.facebook.com/charlescremonaphotography
http://www.charlescremona.com/
After the success of their 2nd album "Out Of Reach" Roswell are proud to announce the launching of Their Official Music Video Of "Like No Other" Directed by Youssef Nassar
The first screening of the Music Video will be taking place Exclusively at Parachutes
http://www.facebook.com/Roswellband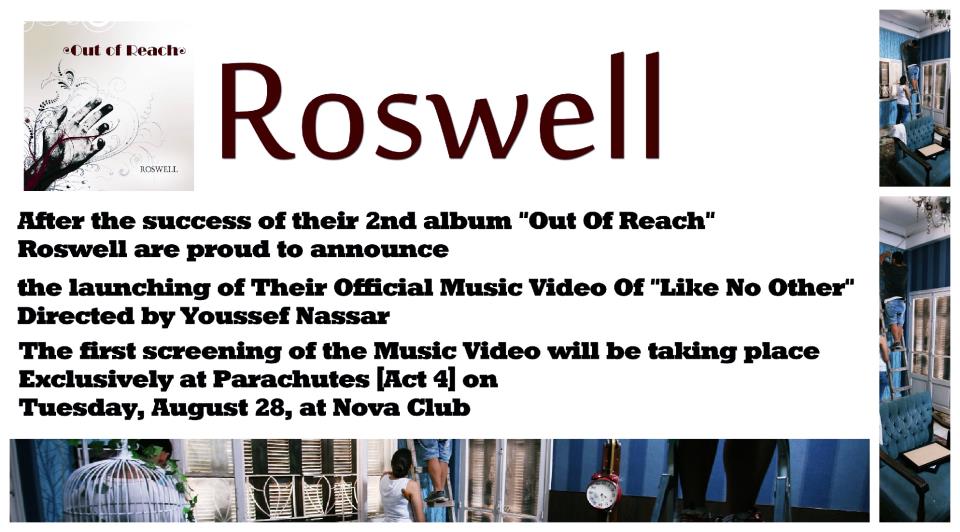 ——————————————————————————————————-
Tickets sold at the entrance for $10 including:
1 drink, free popcorn, and crackers.
——————————————————————————————————-
This event is organized by Rachell Maksoud and Nathalie J
Operated by: Houssein Kazma
——————————————————————————————————-
For more info, artist's registration and reservations call:
03 960 534 or
03 412 524
——————————————————————————————————–
Artists who'd like to register their art or music for future events are more than welcome to drop us an inbox message.
Event page on Facebook: http://www.facebook.com/events/408758845852785/
Keep Parachuting!