Friday August 17th 2012 / 9:00 PM / Quandrangle, Hazmiyeh
After 5 years of ObliVioN's success , unfortunately the time has come to announce that the journey has reached to an end and ObliVioN no longer can be…On behalf of ObliVioN band and X-management we would like to invite you all to ObliVioN's last appearance and live concert on the 17th of August 2012 to make the final mark on you all with the extreme performance and style of the band as you all got used to it.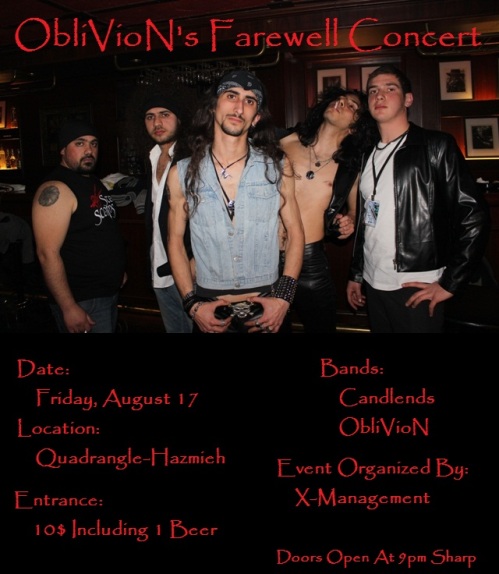 Around 2 hours of nonstop performance bringing you the best of what we have been covering for the last 5 years and what we have been creating as our own originals.
Candlends
10$ including one beer
Doors Open at 9:00 pm Sharp.
Event Organised By: X-Management
Sponsored by: Ozz Tattoos and Accessories
Event Link on Facebook: http://www.facebook.com/events/289393997835225
This event is covered by LebMetal.com
LebMetal.com will be setting a merchandise stand to support local bands:The Hourglass shirts + albums and EP
Alan Azar – "The Cosmologist"
Roswell – "Out of Reach"
Moe Kabbara – "Understated Imperfections" EP
Kimaera – "Solitary Impact" and "Ebony Veiled"
Monarchy – "The Rise And Fall At Lantis"
Blaakyum – "Lord of the Night"
Amadeus Awad – "Time Of The Equinox"