Ladies & gentlemen, Summer is upon us,  it's time to take off those formal uniforms and Rock the beach! And what's better than a beach is a METAL BEACH CONCERT!!
6 bands gathered under the wicked Summer sky, to give you one hell of an experience, and epicness is promised!
This will be Blaakyum's "First In Line" Lebanese tour's closing event, before the European tour.
Friday June 8th 2012 / 8:00 PM to 2:00 AM / Beach Bar, Bay 183 – Byblos
Mindstorm
Demons
In Sanity
Blaakyum
Highway 69
Rubber Band
This event is made in collaboration with LYC [Lebanese Youth Center].
The Event will take place at The BeachBar of Bay 183.
Check the map here.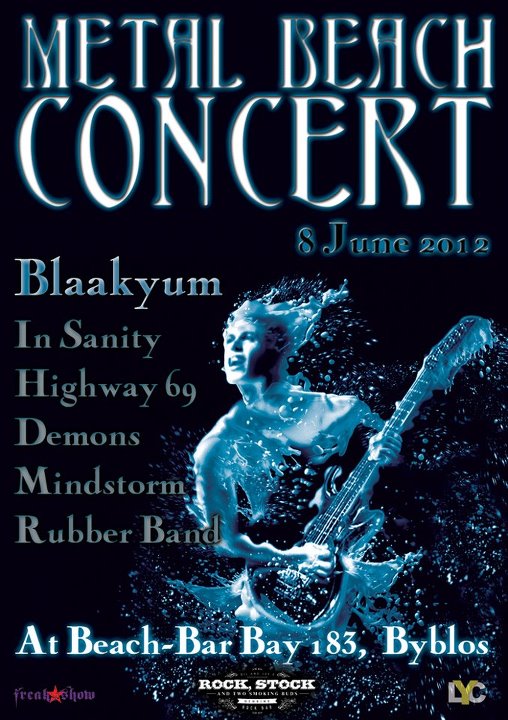 TRANSPORTATION will be provided from Dora to Bay 183, and back.
>>> Including One beer (for now),
>>> Access to the Beach/Sea,
>>> Access to the Pools [3 big pools],
>>> Access to the Green Area,
>>> Attending an unforgettable event with epic sound system and 6 decent bands!
A Free Shot after 12:00 AM.
The host of the event will be kept a surprise.
Bands will have their merchandise for sale in LebMetal's stand.
Freakshow's part of the helping friends who made sure this event gets the proper amount of support.
Is an Alternative Rock-Metal band from Byblos, its members are still young and the band's 2 years old, it's true, but they hell these guys can rock the stage!
MindStorm on Facebook
Is a new wave of thrash metal band from Tripoli, formed in 2008, and each of its performances is unique, they're not to be missed!
is a Heavy Metal band formed in October 2010, and in order to understand who these guys are, I'm going to quote some of their mission:
"We will Live…
We will Drink…
We Will Fight…
We Will Rock…"
They sacrifice exotic fruits, and drink their juices… And In.The.Name.Of.God.Allmighty, they will Rock the Hell out of your Souls!
Started as a regular classic Heavy and Doom Metal band in 1995, Blaakyum turned to Thrash two years after its foundation. Later on they got taken by the progressive metal wave that struck the end of the 20th century. After it's reunion in 2007, Blaakyum was a mix of everything from Classic Heavy Metal, Thrash Metal, Progressive Metal, some breakdown elements taken from Metal Core, as well as a lot of Hard Rock elements… all this mixed within an oriental flavor, sometimes too subtle to be noticed.
A band covering only System of a Down songs, a tribute to the golden gods, the sexiest band ever, with the craziest people.
An old school rock/old school heavy cover band [Led Zeppelinwith a female vocalist.
—————————————————————————————-
————————————————————————————-
This event is covered by LebMetal.com
LebMetal.com will be setting a merchandise stand to support local bands:
The Hourglass shirts + albums and EP
Alan Azar – "The Cosmologist"
Roswell – "Out of Reach"
Moe Kabbara – "Understated Imperfections" EP
Kimaera – "Solitary Impact" and "Ebony Veiled"
Monarchy – "The Rise And Fall At Lantis"
Blaakyum – "Lord of the Night"
Amadeus Awad – "Time Of The Equinox"
If any band is interested to sell its merchandise, contact us here.