Soen is a progressive metal supergroup consisting of various high-profile extreme metal musicians. Their debut album Cognitive was released on February 15, 2012. On May 28, 2010, the formation of Soen was announced, its lineup consisting of former Opeth drummer Martin Lopez, ex-Death, Testament and Sadus bassist Steve DiGiorgio, Willowtree vocalist Joel Ekelöf and guitarist Kim Platbarzdis. The group's first song, "Fraccions", was released on the band's official website on October 2010. Read more on Last.fm
In brief, they are very talented people writing Progressive/Alternative Metal music with intellectual thought-provoking lyrics accused of copying Tool. Truth is, yes, their music has a lot of similarities with Tool's; the reason is as stated by the band, that Tool created a new genre, a new direction. Why not follow just like any other form of music that was pioneered by a band, and other very creative and successful bands followed (or else Black Sabbath could be the only Doom band that ever existed and any band playing doom is just a "Copy"). Some Tool fans are really excited for what Soen brings to the table, others just still don't acknowledge the great quality work and creativity of Soen.
Here is a lyrics sample of "Tabula Rasa" from the second and latest album "Tellurian" (meaning: From Earth).
I will fight the system, break it down and redesign it
I don't want anything the way it's created by them
Where is my right to choose, if all the options are theirs?

There were some of those who told the truth
Who before they rose all were children just like you
Sons and daughters standing with our earth
Shedding light on those that would bleed us, out of view.
You can check the video below and plenty of other videos on Youtube.
Now, speaking about the concert, it was held on March 12th 2015 in a place called Kulttempel in Oberhausen Germany. Gladly, the place sounds like a satanist headquarter and the decoration is a church turned into an altar of band deities. Such concept could be really interesting, blasphemous and well respected. Yes the place could offend a lot of people, but also it could be considered as an analogy of worship where music is the God.
First band on stage was the opening band "Lizzard", also a progressive metal band, but not playing what Soen plays, in my opinion they have potential, good riffs and track parts that can move you. It was hard to understand any lyrics or hear the vocalist as all instruments were louder in the mix. The band also has some sort of formula and their tracks end up sounding very similar – it's where we listeners loose interest and it's where Soen triumphs in making every track a different story, a different musical approach (for more info, check the band on last.fm >Lizzard<)
While the stage was being set up for the main act Soen, the place had to be purified and the daemons needed to be chased away from the Kulttempel, thus burning charcoal was used with incense in an Iron pot. The smoke filled the place, the smell of purity filled the lungs and the brain became ready for the Soen musical journey.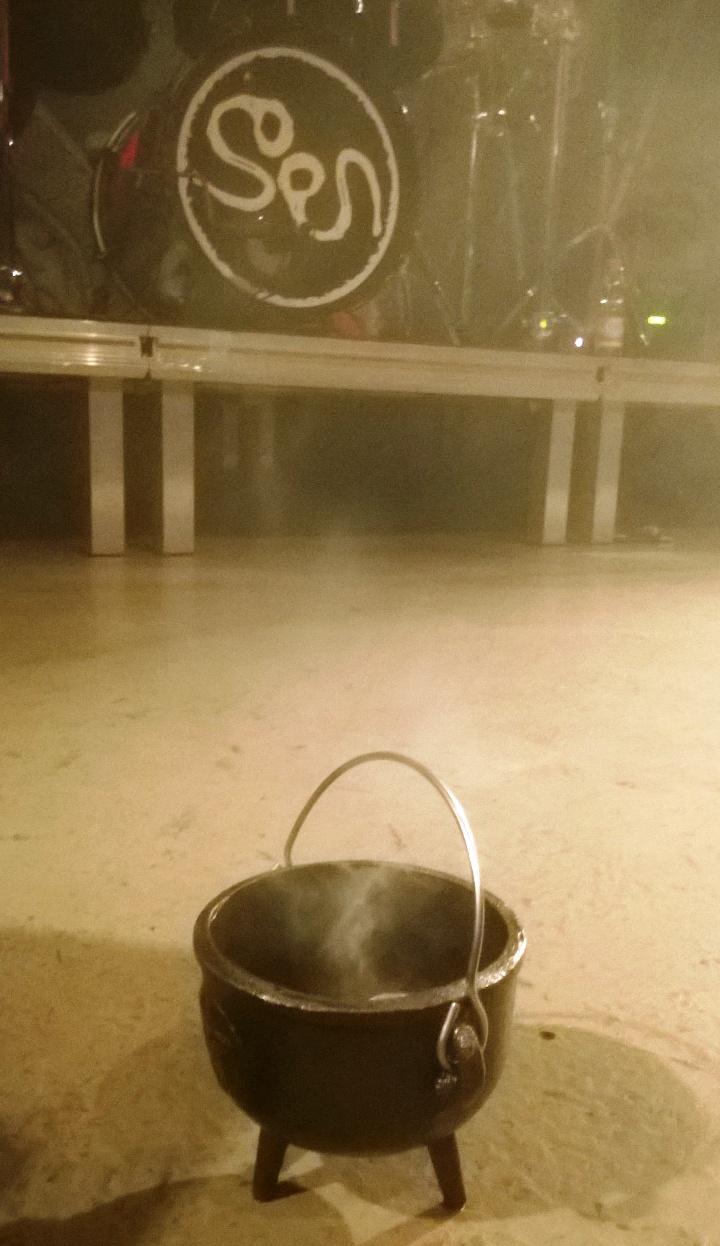 Soen, for the live performance, has a slightly different line-up especially missing Steve DeGiorgio who left the band before the release of the second album and the main guitar player Kim Platbarzdis, who was replaced by live performer Marcus Jiddell. Soen performed tracks from the first album "Cognitive", like "Savia" and "Delenda" and also from the second album "Tellurian", like "The Words", "Tabula Rasa", "Koniskas" and others. Simply speaking, everyone on stage is a well experienced musician and that was easily noticeable, as most tracks where played perfectly and sounded almost like the studio album versions, with the exception of a few guitar jams that were added in track intros and mid sections. Unsurprisingly in a progressive metal band, the jams tended to be a bit bluesy (Prog is where anything if well placed can work).
During the concert, there were casualties of broken necks, where headbanging was unavoidable and other victims of dropped and locked jaws with wide smiles. It's easy to say that a prog concert with a very well talented band and perfectly written material is always enjoyable. The sound quality of the place was great and the sound engineer was placed perfectly in the middle of the Hall and had it all under control.
Soen is a band that deserves recognition and seems to be receiving more and more of it. Check them out on the links below: