There are multiple artists with this name: 1. A folk metal band from Russia (see also Аркона) 2. A pagan black metal band from Poland 3. A hard rock band from Czech Republic 4. An ambient musician from Poland 5. An NSBM band from Russia, now called Varyag 1) Arkona also known as (Аркона) is a Slavic pagan folk metal band from Russia. Official Site Their lyrics are heavily influenced by Russian folklore,and Slavic mythology, and their music incorporates several traditional Russian musical instruments. Read more on Last.fm
Arkona is one of the worlds leading pagan metal bands, and they keep the bar set high with the release of their seventh album, Yav, published through Napalm Records in May of 2014.  Front woman and composer extraordinaire, Maria Arkhipova has a reputation built off of pure, serious and meaningful talent, something you recognize immediately as you press play and Yav unravels.
I think a little background history behind the album's name is imperative, simply because Arkona relentlessly delivers a story, and has an objective, behind everything they release and no album should be reviewed out of context; especially a Pagan Metal album. Yav (for those of us who don't speak Russian and are not as cultured as we'd like to be) is one of the three worlds from the Book of Veles. The Book of Veles is the ancient text of Slavic religion and history which sadly, like most pagan religions, has been vehemently forgotten due to the spread of Christianity. 'Yav' denotes the material world, the one we currently live in. The second world is 'Nav' the world of the dead, and the third world is 'Prav' the laws that govern both worlds, the world of the Gods and Spirits. Could Arkona be planing a three-part album series? Arkhipova describes her album:
"Yav is a concept album. Concept not in the sense that each song relates to the previous one and the whole album is in the style of history, but that all the songs are about our world today and it describes my point of view on it. […]Humanity wants to make the world better for itself, but ruins it. The concept of the album is my philosophy of nowadays. It consists in the thoughts that the real essence of the modern world is hidden under the artificially made beautiful form. Truth is not what we want to see, but what is in reality and what is really hard to see."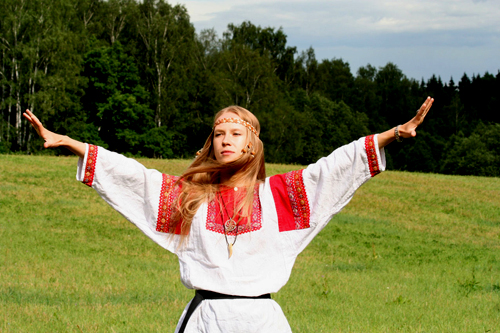 Maria Arkhipova – Arkona's composer and front-woman (Also professional badass)
What makes Arkona special is that although they play within the realm of Folk Metal, a genre that has evolved to become notorious for silly and gimmicky music, they consistently deliver material that sincerely preserves and showcases the beauty of their Slavic culture. Yav is no different than any of their other albums in this respect, and is impeccably crafted with a diverse display of Arkhipova's vocal talents. Ranging from immaculately delivered clean vocals to creepy whispers and harsh sinister growling, the latter being an aspect that has given Yav a slightly black-metal-esque atmosphere. Arkhipova effortlessly oscillates between harsh and clear (a style well-known to Arkona) which only serves to enhance the tangled complexity of instrumental composition soaked in pagan black metal goodness.
With the nine tracks averaging out at about seven minutes each, Yav offers an impressive sixty-eight minutes of pure epicness. No really guys, every single track on Arkhipova's brain child is its own piece of art, and it only gets better as you play it through time and time again.
One of best tracks on Yav is the third track, Serbia, a beautiful ode to the post-war state of the country, a tribute to the men that died and a reminder of the scars the people still bare from the war. Arkhipova was inspired to write Serbia after visiting the Balkan lands whilst on tour and witnessing the haunting mixture of war ruins and renewed life that littered the region. As for the music, Serbia lends an otherworldly feel, with subdued drumming (although still present, still dark) and mildly gritty vocals which you can almost feel pulling you back to a devastating moment in time that has tainted Serbian history with blood.
My favorite track from Yav is Ved'ma. It is a collaboration between Arkona and Swedish viking metal band Thyrfing. It features guest vocalist Thomas Väänänen and is a dialogue between someone who chooses to live in harmony with religious society and a witch (Ved'ma in Russian) who chooses to live in her own world, without conforming. Although there are some components of Ved'ma that lose me, I think the opening makes up for any sloppiness later on.
Track number seven, Chado Indigo (Indigo Child), interestingly enough is about children with supernatural powers and unusual traits. The term also has strong implicit connection to autistic children and their tendencies to have savant syndrome. It opens up with whispered and creepily echoed storytelling which fades into some haunting piano. Then the good stuff comes in, a dose of heavy guitar with an epic bass line and Masha doing what she does best. What grabbed my attention though, and the reason I chose to mention Chado Indigo, is that it introduces opera-esque background vocals and features children speaking in Russian and laughing, which was a delightful (and creepy) surprise. Towards the end of the track we get some beautiful violin playing (Thanks to none other than Turisias's Olli Vänskä!) Chado Indigo reinforces the fact that Arkona is moving into some darker territory but still proving to their audience that they enforce no genre-specific restrictions on their creativity. All in all a very interesting track with elements that, I think, make it stand out from the rest of Yav.
Appreciating the artistic depth of Yav is impossible via one simple play through of its nine tracks. The trained Arkona fan will notice the band has decided to take a new direction into slightly darker metal, minus all the brighter textures and folksy elements, which might come as an unpleasant surprise, especially if you enjoyed their previously quirky style. However for long-standing Pagan Metal fans, Yav's intricacy will provide a thought provoking experience. Several times during the process of listening to Yav, the swift change from fast-paced and super heavy to slow and atmospheric within the same song lost me. Other times I found Arkhipova's growling and shrieking a little bit off putting. Nonetheless, I believe Yav contributes seamlessly to the dominion of Pagan Metal, a beautiful elegy to fading cultures.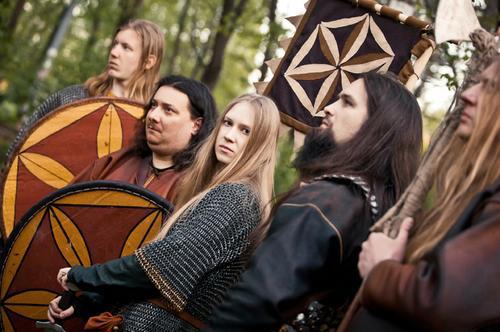 Check Yav out and let me know what you think!
Find more about Arkona at: