Ostura (meaning 'Legend' in Arabic) is a metal band from Lebanon that has recently finished recording their first album: "Ashes of the Reborn". Ostura's lyrics represent an epic tale in a fantasy world, and their music is a blend of melodic and progressive symphonic influences that defines them as one of the great bands in the Middle East of this style. Influences: Nightwish, Stratovarius, Rhapsody, Avantasia, Kamelot, Symphony X, Film Music (Mainly John Williams) http://soundcloud.com/ostura/ http://www.facebook.com/osturaband/ Read more on Last.fm
It's been a long time since a Lebanese Metal band grabbed the attention of the international Metal community like Ostura did with their debut album 'Ashes of the Reborn'. It took them a year and several lineup changes to get ready for live gigs, and it's safe to say that they pulled off their first ever live show at Metro Al Madina in Hamra – Beirut.
It's not easy when you have a 7-member band as well as sessionists contributing to the overall sound, but Ostura was undoubtedly consistent throughout the entire set, set aside some technical issues with the sound that are inevitable in a venue which has not seen many Metal events in the past.
It was packed that night, local Metalheads and music lovers of all ages came to enjoy some heavy tunes, serene opera passages and a variety of orchestral moods, similar to that of a journey with all its joy, anger and excitement – the Live Opera was successful in recreating those moods from their album.
Covers for bands like Nightwish and Kamelot were effortlessly performed and blended right in with the band's style as well as the set, giving fans of Symphonic / Prog Metal their money's worth.
The almost 2-hour set was concluded with the album's finale 'Ashes of the Reborn', a testament to the band's musicianship and an icing on top of a well-earned cake that night.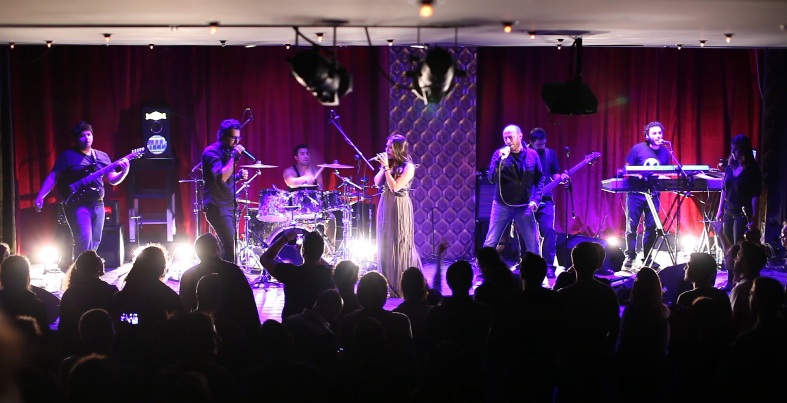 It was refreshing to see Metalheads' support at the event – it has been a while since we had local Metal gigs and seeing a packed house was a good reminder that we still have Metal fans and musicians who believe in / support the music.
It's apparent that Ostura are ready to start touring all over the world. The question remains: When and Where?
——————————————————————
Keep up with the latest on Ostura on their Facebook page HERE.