Black Metal band from Tripoli, Lebanon. Facebook: https://www.facebook.com/Hatecrowned Youtube : http://www.youtube.com/user/HatecrownedOfficial Twitter : https://twitter.com/Hatecrowned Myspace : https://myspace.com/hatecrowned.press Influences: Mayhem, Marduk, Belphegor, Behemoth, Von, Gorgoroth, Watain, Dissection, Xasthur. Current Live/Line-up: Ayvaal - Vocals Dahaaka - Guitar Soulburner - Guitar Warlord - Drums (Live) Trotgoh - Bass Guitar Nephtys - Keyboard/Female Vocals Read more on Last.fm
 A)
How did the band get together?
Ayvaal: I always wanted to form a Black Metal band, yet I faced a lot of problems trying to find members that share with me the same ideology and the same taste in music, until I met Dahaaka and Nephtys, I explained my idea, and they were interested, that was back in the 2011, the whole concept was different of what we are right now. After that, we started gathering members who can handle playing such a genre, some were worthy and some were nothing but pieces of shit.
B)
What is the band aiming for?
Dahaaka: We absolutely have a musical agenda, yet we are not aiming to become a mainstream shit. We have specific beliefs that we translate in our music/lyrics, and we surely want to make more albums, spread more and tour.
C)
Do all members have similar tastes? What is each member's musical knowledge?
Ayvaal: No, not all of us have the same musical taste; I believe that it is a positive thing to introduce new elements, as long as we don't drift away from our genre. I am into bands like Watain, Sargeist, Mayhem, Behemoth, Belphegor, Setherial, and so is Dahaaka, but as for Nephtys she has her classical taste and she's influenced by Symphonic Black Metal bands also like DimmuBorgir and CarachAngren. Trotgoh listens to Black Metal yet he is into Psychedelic music, Warlord is into Thrash and Death Metal, Soulburner is into Technical Death Metal, and Benjamin "GoreDrummer" Lauritsen is into Brutal Death Metal and Black Metal. However, I want to make one thing clear, the essence of Hatecrowned music is created by me and Dahaaka. The other members for sure have a say in it, but we always make sure, not to deviate from the band's music and image.
D)
We noticed major oriental influence in the music and obviously Arabic lyrics, why is that? Explain to us the concept.
Dahaaka: It's natural as a Middle Eastern person to include oriental elements into the compositions; however it is necessary to show our identity and shape our music according to it. Also I believe that oriental scales are efficient in creating the black metal atmosphere seeing that we're not Norwegian.
Ayvaal: I would like to add one thing concerning the lyrics, I've written some Arabic lyrics because I found that it is a vital yet different way of expression in Black Metal. So I had this concept in mind, and I wrote and we used them in our first release, which is "Warpact in Black". It was released on 9th of November, but this was a first step for the band, and the upcoming album that we are currently working on contains different themes, musically and lyrically speaking.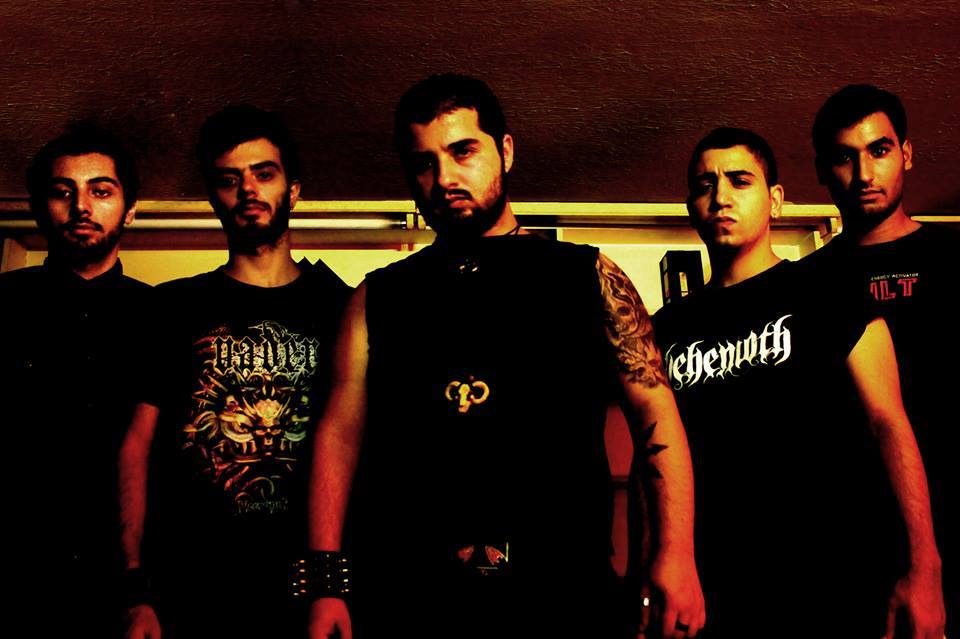 Jerking an Interview
Tell us about the band's latest news and next big project.
Dahaaka: We lately organized a metal night in Jbeil at "Rock,Stock and two smoking buds" Pub where we released our debut EP "WARPACT IN BLACK" (November 9). Currently we are recording our debut full length album and we believe that it will be done this summer. We also have a new session drummer from Denmark and he is recording the drums. Senseless Life Records offered us a deal which we signed and they will release our album which is going to be titled as "NEWBORN SERPENT".
1)
Which do you consider the most useless instrument?
Ayvaal: No instrument is useless however there are instruments that might be less important or used in a specific genre. As for black metal I believe that the triangle is totally useless and shallow to use.
2)
Name the most annoying band member or musician you know or have in the band?
Dahaaka: We don't really have time to deal with annoying band members, we all can be annoying but outside our work. But if any member tries to take things lightly we will kick his fucking ass directly.
3)
Which music you never liked?
Ayvaal: Everything not METAL
4)
What/Who is your muse and inspiration when composing?
Dahaaka: Ourselves, our hatred, our revulsion and the darkest side of us.
5)
How would you kill a singer (using musical instruments and gear)? You can state your reasons too.
Dahaaka: Impalement without mercy using a spear attached to the guitar fretboard.
Ayvaal: Chains are beautiful torture and killing gear.
6)
What is your favorite move on stage?
Ayvaal: We are not a show band, we go on stage, we spread our fucking hatred upon everyone, and that is all.
7)
Tell us about a memory from your childhood years
Dahaaka: Shapes and colors.
Ayvaal: Near death experience.
8)
Name a band that should reunite or an album that should be recorded again.
Dahaaka: The album that I like to be re-recorded is THE LAST SUPPER – BELPHEGOR.
Ayvaal: MALFEITOR from Italy must be reunited and also EMPEROR.
9)
Name a track you wish you recorded instead of the original artist.
Ayvaal: None.
10)
Is there something so random you would like to mention here?
Dahaaka: Yes of course, we believe that the Lebanese metal scene needs a lot of support from magazines (some of them are totally dead) and from local organizers and managers.
Ayvaal: Thank you for the interview.
HATECROWNED: HAIL DARKNESS, HAIL CHAOS.